Best Chair Co.








We have always carried Best Chairs swivel rockers and gliders, but were astounded with the quality and comfort of their recliners and motion sofa's. Always a great selection, quality and value.www.bestchairs.com/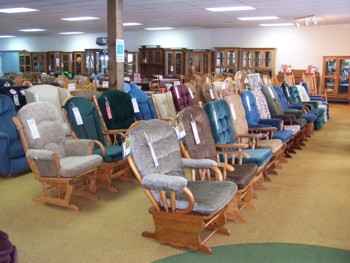 Jackson Furniture/ Catnapper With over 75 years of being in business Jackson Furniture continues to provide Quality and Comfort for today's Lifestyle! www.jacksonfurniture.com
Overnight Sleeper Co.
Sleepers are their business, using only top quality mechanisms and inner spring mattresses. Their sleepers come in twin, full, and queen sizes, making them our customers best choice for quality and value.
Lancer Furniture
One of the largest selections of country styles in the industry, featuring rock solid frames with medium firm seating that will not leave you struggling to get up from. Solid support at an excellent value. http://www.lancerfurniture.com/
Ashley Furniture
http://www.ashleyfurniture.com/



Ashley Furniture's Worldwide Headquarters in Arcadia, Wisconsin continues to be the core manufacturing and distribution center for the Ashley Companies. Founded by Carlyle Weinberger in 1945, the company started as a sales organization with branches in Chicago,IL and Goshen, IN. In 1970, the Arcadia, WI factory opened. Specializing in occasional tables and wall systems, the building encompassed 35,000 square feet of space and 35 employees.Under the vision, direction and leadership of Ashley's owners, Ashley has become a "WorldClass Furniture Manufacturer". Ashley has grown to become the largest home furniture manufacturing company. Ashley has a rich history of success stories that illustrate its dramatic transition from a 'virtual unknown' to a significant force in the industry. For over half of a century, the company has remained committed to its Vision Statement:

"We Want To Be The Best Furniture Company."